Professional Profile: Keith Kennedy, 2019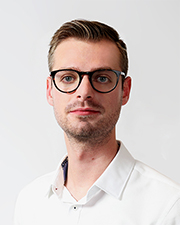 Keith Kennedy
Name: Keith Kennedy
Title: Vice President of Strategy
Company: Mancini
Location: New York, NY
Birthplace: Hartford, CT
Education: New Jersey Institute of Technology, BS Construction Management
First job/first job in real estate or allied field: Marketing assistant at Fuss & O'Neill, a multi-disciplinary engineering firm based in New England.
What do you do now and what are you planning for the future? At Mancini I've been working with our marketing & communications, Leadership and Talent teams to continue evolving our practice, which merges technology, design, and collaboration to transform how we work with clients and reimagine our industry. My role as a business strategist, merging these disparate functions, is not one often seen in our industry but, thus far, the value to our firm has been tremendous.
How do you unwind from a busy day? I find guilty pleasure in reality TV—it's a great way to escape without needing to commit to an entire series. That, or you can find me catching up with friends over a beer.
Favorite book or author: I find that books lose relevancy by the time they hit the market in our world that demands instant access, so I love discovering new writers who contribute to publications like Harvard Business Review.
Favorite movie: I could watch You've Got Mail anytime and be happy.
Last song/album that you purchased/downloaded? With the advent of music streaming services, I'm constantly listening to new music. However, my all-time favorite song is One Headlight by the Wallflowers.
One word to describe your work environment: Driven. We're on the forefront of delivering design to our clients by leveraging technology in new and exciting ways—everyone at Mancini comes on board because they want to continue improving how we meet our clients' individual business goals.
Rules to live by in business: Anyone who knows me hears me say two things, constantly: "Focus on the typical 80% and worry about the 20% exceptions later or you'll never get anywhere" and, "Facts are friendly."
If you could invite one person to dinner (living or dead, but not related to you) who would it be and where would you go? I'd love to meet up with Steve Jobs – I've always felt that we think on a similar wavelength and I admire that he was unwavering, able to stick to his guns, and was able to see ahead and make incredible changes in the world.
What is your dream job? I've always been interested in specializing in a focused, analytical field like actuarial or data science. Or a rocket scientist.