Professional Profile: Karen Dome 2019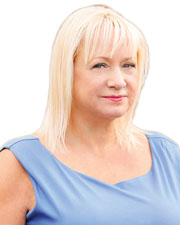 Karen Dome
Name: Karen Dome
Title: Vice President
Company: Compass Commercial
Location: 10 East 53rd Street, New York, NY 10022
Birthplace: Brooklyn, NY
Education: Pace University
First job in real estate: P & E Properties
What do you do now and what are you planning for the future?:I have joined Compass as vice president of investment sales to lead and expand the firm's newly launched commercial division alongside Adelaide Polsinelli and Ronda Rogovin. I am planning for the future a year of rapid growth and deal flow.
How do you unwind from a busy day?:Dinner cooked by my husband Eli, my three kids Justin Ryan, Madison Emma and Max Jared and a glass of Bordeaux.
One word to describe your work environment?:Kind
Rules to live by in business: Compass' principals are in line with my rules: Dream big, move fast, learn from reality, be solutions-driven, obsess about opportunity, collaborate, maximize your strengths and have passion.
If you could invite one person to dinner (living or dead, but not related to you) who would it be and where would you go?:My dear friend Faith Hope Consolo, for another dinner at La Goulue.
What is your DREAM job? (something other than your current job):Music Producer