Professional Profile: Justin Lau 2020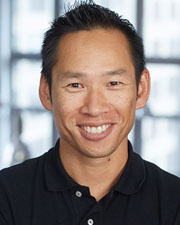 Justin Lau
Name: Justin Lau
Title: Associate Principal
Company: Cerami & Associates
Location: New York, NY
Birthplace: Melrose, MA
Education: BSME, U. of Hartford
First job: Custodian
First job in real estate or allied field: Construction administration for Fluor
What do you do now and what are you planning for the future? I manage and lead a diverse portfolio of projects in all market sectors, including spearheading all of Cerami's aviation projects. Many of my projects have received industry recognition. I look forward to using my aviation experience to grow Cerami's aviation and transportation portfolio.
How do you unwind from a busy day? Golf and cars
Favorite book or author: "The Red Badge of Courage"
Favorite movie: "Spaceballs"
Last song/album that you purchased/downloaded? "Drift Away" by Sons of Zion
One word to describe your work environment: Engaging
Rules to live by in business: Treat everyone as a person
If you could invite one person to dinner (living or dead) who would it be and where would you go? F1 driver Lewis Hamilton to a local vegan restaurant (he's vegan)
What is your DREAM job? (something other than your current job) Surf instructor in Bali.