Professional Profile: Joshua Soble 2021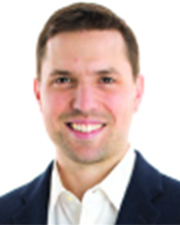 Joshua Soble
Name: Joshua Soble
Title: Senior Account Manager
Company: Bright Power
Location: New York, NY
Birthplace: Washington, DC
Education: Bachelor of Sciences, Geological Sciences, The University of Michigan
First job: Market Research & Development Associates at the Technology Transition Corp. in Washington D.C.
First job in real estate or allied field: Energy Consultant
What do you do now and what are you planning for the future?:I work with multifamily owners and developers to deploy energy efficiency, distributed resource, and renewable energy solutions into their existing buildings and new construction projects. I expect to be developing more distributed resource projects (solar PV, battery storage etc.) and for microgrids, in particular, to become an increasingly important tool in the fight against climate change within the built environment.
How do you unwind from a busy day?:Cooking a good (but simple) meal.
Favorite book or author: Man's Search for Meaning, Viktor Frankl
Favorite movie: "The Matrix"
Last song/album that you purchased/downloaded?:"Ballads" by John Coltrane Quartet
One word to describe your work environment: Evolving
Rules to live by in business: Integrity is doing the right thing, even when no one is watching. (Not sure where the quote is from)
If you could invite one person to dinner (living or dead, but not related to you) who would it be and where would you go?:Charles Darwin. The Galapagos. (Obviously).
What is your DREAM job? (something other than your current job):Planetary explorer