Professional Profile: Joshua Dreyer 2021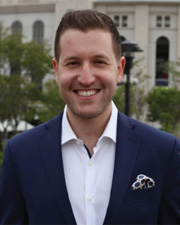 Joshua Dreyer
Name: Joshua Dreyer
Title: Real Estate Salesperson
Company: Gilco Realty
Location: 400 E 167th St., Suite 2B, Bronx, NY 10456
Birthplace: Valley Stream, NY
Education: Baruch College (Majored in Finance)
First job: Maintenance at Jones Beach State Park
First job in real estate or allied field: Intern for leasing/development at Moinian Group
What do you do now and what are you planning for the future?:Today, I help retail/no-retail business's find commercial space. I plan to continue my growth in the commercial leasing sector and help as many businesses as I can both local and national tenants.
One word to describe your work environment: Collaborative
Two things on your bucket list: Visit every state in the U.S.; hike Mount Kilimanjaro Mountain in Africa.
Favorite vacation destination: Turks & Caicos
Favorite book: The Choice: Embrace the Possible by Edith Eger
Favorite movie: The Equalizer
If you could invite one person to dinner (living or dead, but not related to you) who would it be and where would you go?:Enzo Ferrari. I would go to Ristorante Cavallino located in Maranello, Italy.
Rules to live by in business: Be honest and ethical in how you treat others. Every time, I get a deal done, I want my client to know that I gave it my all to them. I know with these rules, I'll build a strong brand and business for myself.
What is your DREAM job? (NOT your current job):My dream job is being a Formula One Driver for Scuderia Ferrari