Professional Profile: Joshua Berkun 2022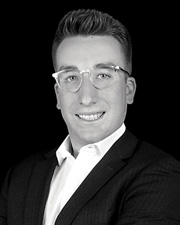 Joshua Berkun
Name: Joshua Berkun
Title: Associate Director
Company: Kassin Sabbagh Realty
Location: 1385 Broadway, 22nd Floor, New York, NY
Birthplace: Nassau County, NY
Education: Indiana University Bloomington
First job: The Original Soup Man
First job in real estate or allied field: Internship for senior managing director of operations at Douglas Elliman
What do you do now and what are you planning for the future? Currently I focus on serving tenants and landlords in the midmarket. This year I have seen a heavy shift of expanding local Mom & Pops who can take advantage of the COVID deals. It is great helping local brands expand and flourish. In the future, I plan on working on more national roll outs. I had great exposure to the Greater Boston market and truly enjoyed working in another city.
One word to describe your work environment: Unpredictable
Two things on your bucket list: Sky diving, see the Knicks win a championship
Favorite vacation destination: SLS Baha Mar
Favorite book: "The Operator"
Favorite movie: "The Departed"
I can't wait for the next season of: "Peaky Blinders"
Have you ever been told you look like someone famous? Who? Tom Petty (when I had long hair) and Milhouse from the Simpsons.
If you could invite one person to dinner (living or dead, but NOT related to you) who would it be and where would you go? Tom Brady, Rao's
Rules to live by in business: Surround yourself with the best
What is your DREAM job? (NOT your current job) Fighter pilot