Professional Profile: John Giuseffi 2017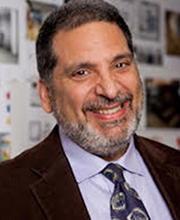 John Giuseffi
Name: John Giuseffi
Title: Executive Vice President
Company: MKDA
Location: 902 Broadway, New York, NY
Birthplace: Bronx, NY
Education: B. Arch Pratt Institute 1985
First job outside of real estate: Chasing grocery carts in a parking lot
First job in real estate or allied field: Non-union laborer
What do you do now and what are you planning for the future? I am currently a registered architect working in the commercial and corporate interiors field. I plan on continuing in my current field until retirement then spend more time with my wife and kids.
How do you unwind from a busy day? Happy hour with my best friend…my wife!
Favorite book or author: "The Celestine Prophecy" by James Redfield.
Favorite movie: "The Jason Bourne" series
Last song you purchased/downloaded? Led Zeppelin's "Black Dog"…don't ask.
One word to describe your work environment: Exhilarating
Rules to live by in business: Never speak at a client only to a client…adding plenty of eye contact.
What is your dream job? Any project with reasonable client expectations.