Professional Profile: Jessica Stoute 2021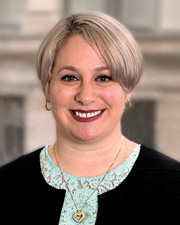 Jessica Stoute
Name: Jessica Stoute
Title: Marketing Director
Company: AKRF, Inc.
Location: New York, NY
Birthplace: Huntington, NY
Education: BS, Marketing, Johnson & Wales University
First job: Camp Counselor
First job in real estate or allied field: Marketing Coordinator
What do you do now and what are you planning for the future? I'm fortunate to be involved in many strategic initiatives, and I plan on continuing to support our mission by focusing on activities that have a positive impact on external and internal goals.
How do you unwind from a busy day? Walk my dog or talk with family and friends
Favorite book or author: The Great Gatsby
Favorite movie: The Usual Suspects
Last song/album that you purchased/downloaded? Graceland by Paul Simon: I have bought this album more times than I care to admit.
One word to describe your work environment: Supportive
Rules to live by in business: Every communication is an opportunity for learning, growth, and connecting.
If you could invite one person to dinner (living or dead, but not related to you) who would it be and where would you go? Dinner with Oprah at her estate.
What is your DREAM job? (something other than your current job) Food Critic