Professional Profile: Jessica Mann-Amato, 2019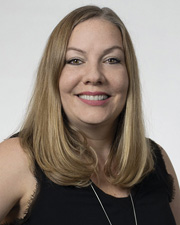 Jessica Mann-Amato
Name: Jessica Mann-Amato
Title: Principal
Company: Mancini Duffy
Location: New York, NY
Birthplace: Tallahassee, FL
Education: BFA in Interior Design
First job: I worked in an arts and crafts store when I was 15 years old.
First job in real estate or allied field: I interned at Herman Miller as a Design Consultant.
What do you do now and what are you planning for the future? I am a principal at Mancini Duffy leading the design department in the New York office. My goal is to empower the next generation of designers to be the best they can be by providing them with the tools to find their voice and define their career path.
How do you unwind from a busy day? Spending a few hours playing with my three year old daughter is a great way to turn off the stress of a busy day.
Favorite book or author: Anne Rice
Favorite movie: "Almost Famous"
Last song/album that you purchased/downloaded? "X Ambassadors," Renegades
One word to describe your work environment: Entrepreneurial
Rules to live by in business: "You should always strive to do your boss out of a job." One of my bosses told me that 16 years ago and it has stuck with me. It's about doing your best every single day, and striving for greatness in everything you do.
If you could invite one person to dinner (living or dead, but not related to you) who would it be and where would you go? I would love to have dinner with Michelle Obama at Blue Hill Stone Barns.
What is your DREAM job? (something other than your current job) My job IS my dream job; I have wanted to be an Interior Designer since I was 9 years old. But, what would make it more dreamy would be the ability to slow down the world around us so we have more time to fully invest in the art and craft of everything we do without constantly working toward expedited schedules.