IREON New Member Profile: Jesse Berland 2023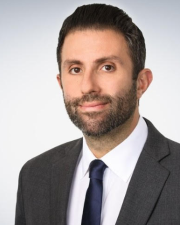 Jesse Berland
Name: Jesse Berland
Title: Principal
Company: Safety Facility Services
Location: 5 West 37th Street, New York, NY
Birthplace: NYC
Education: Lemoyne College
First job: Safety
What do you do now and what are you planning for the future: I am the COO of the company and work closely with the business development team and acquire companies.
One fun fact about you is: Swam for four years in college.
Two words to describe your work environment: Family oriented/rewarding
Three things on your bucket list: 1. Go on a safari to South Africa with my family. 2. Go skiing in Switzerland. 3. Six-month cruise around the world.
Favorite streaming series: "Game of Thrones"
Favorite movie: "Braveheart"
Favorite book: "Traction"
Favorite vacation destination: Kiawah Island
If you could invite one person to dinner (living or dead, but NOT related to you) who would it be and where would you go? Michael Jordan, and would go to Carbone.
Rules to live by in business: Be accountable and do everything with integrity.
What is your DREAM job? (NOT your current job): Sports agent