Professional Profile: Jenny Bernstein 2020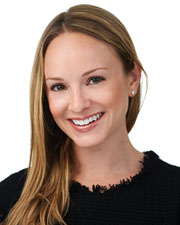 Jenny Bernstein
Name: Jenny Bernstein
Title: Senior Managing Director
Company: Current Real Estate Advisors
Location: New York, NY
Birthplace: Manhattan, NY
Education: NYU
First job: My first job was at Swaine Adeney Brigg in London. I sold umbrellas.
First job in real estate or allied field: I was doing retail leasing at ABS Partners for the last six years
What do you do now and what are you planning for the future?:I just started at Current Real Estate. I'm really excited about what we're doing and how we're distinguishing ourselves from the other brokerages in New York.
How do you unwind from a busy day?:I watch a lot of Bravo after the kids go to sleep.
Favorite book or author: I love to read. Last year I enjoyed "Educated" by Tara Westover and "A Ladder to the Sky" by John Boyne.
Favorite movie: I can't sit through a movie.
Last song/album that you purchased/downloaded?:I only listen to Podcasts at the moment - anything about TV or celebrity gossip.
One word to describe your work environment: Paperless
Rules to live by in business: Time kills deals.
If you could invite one person to dinner (living or dead, but not related to you) who would it be and where would you go?:Ina Garten, at her house.
What is your DREAM job?:Food critic.