Professional Profile: Jay Ryan, 2019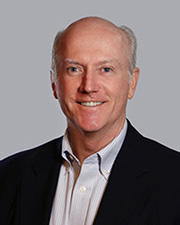 Jay Ryan
Name: Jay Ryan
Title: President & CEO
Company: Kilfinane Energy Consultants
Location: Northport, NY
Birthplace: Manhasse, NY
Education: St. Mary's High School, Harvard College, Fordham Law School
First job: Salomon Brothers
First job in real estate or allied field: Kilfinane
What do you do now and what are you planning for the future? Currently advising businesses and building owners on how to save energy, cut costs, and improve their bottom lines. At some point I'd like to travel the world with my wife.
How do you unwind from a busy day? With a workout or a beer. Or both.
Favorite book or author: "Lonesome Dove"
Favorite movie: "Casablanca"
Last song/album that you purchased/downloaded? "Last Kiss" by Pearl Jam
One word to describe your work environment: Stimulating
Rules to live by in business: The Golden Rule
If you could invite one person to dinner (living or dead, but not related to you) who would it be and where would you go? I'd invite young Muhammed Ali over to Clint Eastwood's house.
What is your dream job? World Heavyweight Champion