Professional Profile: Jason McGreevy 2020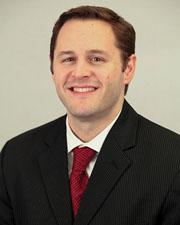 Jason McGreevy
Name: Jason McGreevy
Title: Senior Project Manager
Company: AKF Group
Location: New York, NY
Birthplace: Sandusky, OH
Education: Bachelor of Science, Mechanical Engineering at the University of Florida
First job: Mowing my grandparents' lawn for $5/week
First job in real estate or allied field: HVAC Design Engineer
What do you do now and what are you planning for the future? I am currently a senior project manager and mechanical engineer in the Commercial Group at AKF. In the future, I plan to continue managing projects while also helping to mentor and educate entry-level and junior engineers.
How do you unwind from a busy day? If the weather is nice, I enjoy going for a walk around the neighborhood with my wife and daughters. We enjoy talking about our days and observing the wildlife in our area.
Favorite book or author: "Black List" by Brad Thor; "Under the Dome" by Stephen King
Favorite movie: "Top Gun"
Last song/album that you purchased/downloaded? "Waiting for Lightning" by The National Parks
One word to describe your work environment: Organized
Rules to live by in business: Work hard and with integrity. Respect everyone and listen before you speak.