Professional Profile: Jason Denue 2019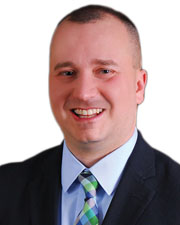 Jason Denue
Name: Jason Denue
Title: Director of Project Development, Senior Associate Principal
Company: Wendel
Location: Williamsville, NY
Birthplace: Buffalo, NY
Education: BS, Mechanical Engineering, University at Buffalo, The State University of New York
First job: Cashier at Wegmans
First job in real estate or allied field: Actually, also at Wegmans, I interned in their site development and store maintenance groups.
What do you do now and what are you planning for the future? I'm the director of project development for our energy services division. Our team develops site specific mechanical and electrical improvements that will pay for themselves by reducing energy costs. We will then implement the improvements utilizing our Master Builder approach to turn-key project delivery. The energy efficiency industry has seen consistent growth throughout my career; and we have grown our business along with it. Our unique company structure of diverse professionals is well positioned to capitalize on industry trends, such as fully open book and transparent implementation costs, leveraging complex engineering systems and big data. I am excited to continue to expand our business into new markets by offering professionally led solutions to complex systems. In the end, it is fulfilling to develop and deliver turn-key projects that result in a positive annual cash flow for our clients, improve their facilities, and most of all, significantly reduce our impact on the environment.
How do you unwind from a busy day? I have two young kids, the best part of my day is playing with them and hanging out with my wife.
Favorite book or author: The ones that are now movies
Favorite movie: "Apollo 13"
Last song/album that you purchased/downloaded: Honestly, probably a ton of Disney
One word to describe your work environment: FUN
Rules to live by in business: We grow at the edges of our comfort zone
If you could invite one person to dinner (living or dead, but not related to you) who would it be and where would you go? Frank Sinatra and anywhere in Vegas
What is your DREAM job? (something other than your current job) Pilot