Professional Profile: James Wrynn 2021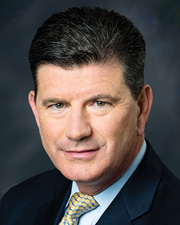 James Wrynn
Name: James Wrynn
Title: Chief Commercial Officer/ Hearing Officer
Company: NAM (National Arbitration and Mediation)
Location: Garden City, NY
Birthplace: not disclosed
Education: St. John's University School of Law ('84) | College of Business Administration (Accounting, '81)
First job in business related field: Jr. accountant/bookkeeper at O'Brien Sherwood Associates marketing research firm.
What do you do now and what are you planning for the future?:I am in a position where I can apply the experiences I've had throughout my professional career as a trial attorney, executive, regulator, advisor and expert witness, in my role at NAM. My plan is to use my experience and help NAM expand its footprint in New York and nationally by introducing law firms, insurance companies, corporations and governmental entities to our top-tier panel of former judges and practicing specialists who are uniquely qualified to handle complex commercial matters and establish NAM as a leader.
One word to describe your work environment: Collaborative
– there are many moving parts at NAM that all have to operate in sync so when the attorneys and parties appear before NAM's neutral (whether in-person or virtually) for a mediation or arbitration, everything comes together seamlessly.
Rules to live by in business: The first rule is hard work. Equally as important, is that you do so honestly and with integrity.
What is your DREAM job? (something other than your current job):Honestly, I am fortunate to have had jobs that could be considered dream jobs. As superintendent of the NYS Department of Insurance, I oversaw the entire insurance industry in New York, and I had the privilege of representing my fellow commissioners internationally.