Professional Profile: Jake Blatter, 2019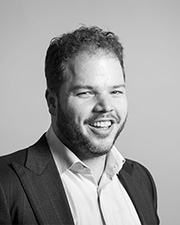 Jake Blatter
Name: Jake Blatter
Title: President
Company: KFIR Capital
Location: Midtown New York City
Birthplace: Brooklyn, NY
First job: Selling Army/Navy supplies
First job in real estate or allied field: I was an originator for a real estate finance company.
What do you do now and what are you planning for the future? I run an investment sales and advisory shop that is unique because we operate like a traditional brokerage shop with the knowledge and reach of the capital markets.
How do you unwind from a busy day? I workout, spend time with my wife and daughter.
Favorite book or author: John Grisham
Favorite movie: "Reservoir Dogs"
Last song/album that you purchased/downloaded? The soundtrack for "Hamilton"
One word to describe your work environment: Synergistic
Rules to live by in business: Swallow your pride, but don't sell your soul. Integrity is everything.
If you could invite one person to dinner (living or dead, but not related to you) who would it be and where would you go? Benjamin Franklin. I would let him pick the restaurant.
What is your dream job? Running a multi-national technology company.