Professional Profile: Jacob Lipoff 2020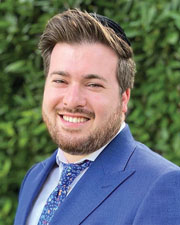 Jacob Lipoff
Name: Jacob Lipoff
Title: Executive Managing Director
Company: Eastern Union
Location: Bethesda, MD
Birthplace: Rockland County, NY
Education: Joint MBA from University of Baltimore Merrick School of Business and Towson University; BA in Talmudic studies from Ner Israel Rabbinical College
First job in real estate or allied field: COO of Chateau Ridge Group in Baltimore
What do you do now and what are you planning for the future?:I lead the banking department at Eastern Union, but I also secure and close deals.
How do you unwind from a busy day?:Spend time with my family
Favorite book or author: Non-fiction, especially books with military intelligence themes
Favorite movie: Action movies
Last song/album that you purchased/downloaded?:Classic rock genre
One word to describe your work environment: Fast-paced and creative
Rules to live by in business: Conduct business with honesty and integrity.
If you could invite one person to dinner (living or dead, but not related to you) who would it be and where would you go?:Warren Buffett; he can pick the venue.
What is your DREAM job? (something other than your current job):This job is my dream job.