Professional Profile: Iva Zoretic 2016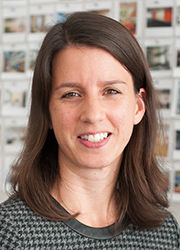 Iva Zoretic - 2016
Name: Iva Zoretic - 2016
Title: Associate
Company: FXFOWLE
Location: New York, NY
Birthplace: Rijeka, Croatia
Education: MArch Norwich University
First job outside of real estate: I played basketball in my youth, and enjoyed working with kids. I took a position as a basketball camp coach for a part of the summer.
First job in real estate or allied field: I worked as an intern architect at Lavallee Brensinger Architects during my master's program. 
What do you do now and what are you planning for the future? I am currently working on several different educational and cultural projects, in particular, the redevelopment of a significant performance hall.
How do you unwind from a busy day in real estate? I always look forward to coming home and spending evenings with my husband and two daughters. We have sit down dinners and discuss our days. It is amazing how busy kids are throughout the day!
Favorite book or author: I have recently enjoyed reading a book called "House of Thieves" by Charles Belfoure. The book offers an intriguing portal to the life of New York's rich and poor. Their coexistence in the book has taken place in the late 1800s and the author wonderfully describes the city streets and habitats of the time. 
Last song you purchased/downloaded? I've been a fan of Spotify for a while, and enjoy their mood lists. 
One word to describe your work environment: Engaging.
Rules to live by in business: Organize, prioritize, and focus. Also, being curious, exploratory and open minded, having integrity and being a team player is essential. All this leads to a trusting and positive relationship with clients, and a successful project. 
What is your dream job? I have always wanted to be an architect, and here I am, doing it.