Professional Profile: Hugh Finnegan 2017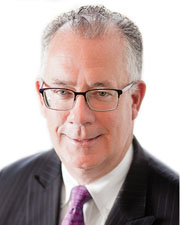 Hugh Finnegan
Name: Hugh Finnegan
Title: Partner
Company: Romer Debbas LLP
Location: 275 Madison Ave., Manhattan, NY
Birthplace: Manhattan, NY
Name: Hugh Finnegan
Title: Partner
Company: Romer Debbas LLP
Location: 275 Madison Ave., Manhattan, NY
Birthplace: Manhattan, NY
Education: Fordham University and Fordham Law School
First job outside of real estate: Delivery boy for a drug store
First job in real estate or allied field: A very baby associate at the now defunct Sage Gray Todd & Sims
What do you do now and what are you planning for the future? I am helping Romer Debbas further develop the commercial real estate side of the firm, especially the commercial real estate lending platform.
How do you unwind from a busy day in real estate? Catching up with my wife.
Favorite book or author: "A Portrait of the Artist as a Young Man," by James Joyce
Favorite movie: "Field of Dreams" (I love baseball and it reminds me of my dad.)
Last song you downloaded? "The Perfect Crime" by The Decemberists.
One word to describe your work environment: Dynamic
Rules to live by in business: There are no problems, only solutions.
If you could invite one person to dinner (living or dead) who would it be and where would you go? Pope Francis at the summer Vatican (I hear the views are amazing and the pasta is pretty good.)
What is your dream job? Player (point guard)/coach for the Knicks. Someone needs to get them on track.