Professional Profile: Heshie Goldfein 2020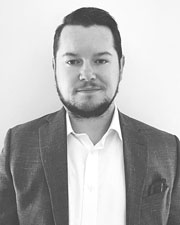 Heshie Goldfein
Name: Heshie Goldfein
Title: Founder and President
Company: Goldcap Real Estate Advisors
Location: Brooklyn, NY
Birthplace: Philadelphia, PA
Education: University of Life
First job: Pizza Store Manager
First job in real estate or allied field: Project manager for a residential development company.
What do you do now and what are you planning for the future?:Currently, I am doing investment sales in NYC. In the near future I am planning on building a team and offering more services such as leasing, property management, advisory and more.
How do you unwind from a busy day?:I spend time with my wife and kids. I also enjoy playing late night ice hockey.
Favorite book or author: John Grisham
Favorite movie: "The Big Short"
Last song/album that you purchased/downloaded?:"Bohemian Rhapsody" by Queen
One word to describe your work environment: Synergistic
Rules to live by in business: Be honest and straight to the point.
If you could invite one person to dinner (living or dead, but not related to you) who would it be and where would you go?:I would invite Benjamin Franklin to Reserve Cut.
What is your DREAM job? (something other than your current job):CRE Developer/ Angel investor