Professional Profile: Helen Herrick 2022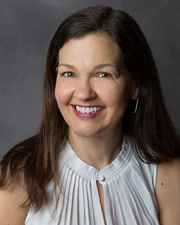 Helen Herrick
Name: Helen Herrick
Title: Director, Architect
Company: MBH Architects
Location: New York, NY
Birthplace: Phoenix, AZ
Education: Bachelor of Arts – Architecture / Master of Urban Planning from the University of Washington Seattle
First job: Packaging Cartons
First job in real estate or allied field: Designer at Mahlum & Nordfors
What do you do now and what are you planning for the future? I'm now at MBH Architects' NYC office and am looking forward to growing the firm.
How do you unwind from a busy day? Walking home is a great transition after the workday and is my time to get inspired by NYC.
Favorite book or author: Ruth Reichl
Favorite movie: "School of Rock"
Favorite streaming series: "Ted Lasso" and "Ozark"
One word to describe your work environment: Open
Rules to live by in business: Ask, listen to the answer, make a decision and proceed
If you could invite one person to dinner (living or dead, but not related to you) who would it be and where would you go? Italian with Ruth Bader Ginsburg
What is your DREAM job? (something other than your current job) I would love to create a business turning discarded retail waste into beautiful, useful things.