Professional Profile: Gisela Garrett 2022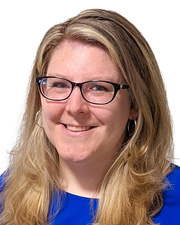 Gisela Garrett
Name: Gisela Garrett
Title: Marketing Manager, Tri-State Capital Markets Group
Company: Avison Young
Location: New York, NY
Birthplace: Morristown, NJ
Education: University of Pennsylvania, BA Visual Studies
First job: YMCA Swim Instructor
First job in real estate or allied field: I worked with an architect who specialized in library design, supporting them in everything from marketing to FF&E specifications.
What do you do now and what are you planning for the future? I recently joined Avison Young in a newly created role that will mutually leverage the expertise of the firm's NYC-based Investment Sales and Debt & Equity Finance teams. It's an exciting moment for growth and innovation for myself, each of the teams, and the firm.
What do you see as an emerging or dominant trend in real estate for 2022? I've witnessed an uptick in collaboration, rather than competition, within the profession and across allied disciplines over the past two years. I'm optimistic that the industry will continue to see the value of pooling resources in new ways.
How do you unwind from a busy day? Fitness is a great outlet for me, whether it's yoga or an OrangeTheory class.
Favorite book or author: "The Pleasure of My Company," or anything by Steve Martin.
Favorite movie: "Inception"
One word to describe your work environment: Energetic
Rules to live by in business: Especially in dispersed teams, remember that there's a person on the other side of the email, text, or call. Empathy breeds trust and, in turn, outstanding results.
If you could invite one person to dinner (living or dead, but not related to you) who would it be and where would you go? I'd invite Denise Scott Brown to join me at Neige d'Été, in Paris.
What is your DREAM job? (something other than your current job) Maybe it's because of how much I enjoy fantasy football, but running a sports team seems like it would be challenging in the best way.