Professional Profile: Gavet Douangvichit, 2019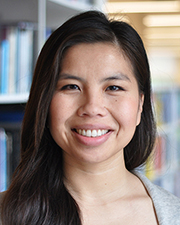 Gavet Douangvichit
Name: Gavet Douangvichit
Title: Project Architect
Company: FXCollaborative 
Location: New York, NY
Birthplace: Laos
Education: Bachelor of Science, Skidmore College; Master of Architecture, University of Michigan
First job: Waitress at pizza place.
First job in real estate or allied field: Designer at landscape architecture firm.
What do you do now and what are you planning for the future? I work with talented, compassionate, and adventurous people who challenge and support each other every day. To continue strengthening firm culture, I co-founded FXMosaic, which promotes cultural, racial, and ethnic diversity in the workplace. Looking ahead, I will serve as project architect for 185 Broadway.
How do you unwind from a busy day? Running
Favorite book or author: "Jimmy Corrigan, the Smartest Kid on Earth" by Chris Ware
Favorite movie: "Billy Elliot"
Last song you purchased/downloaded? "Bag Lady" by Erykah Badu
One word to describe your work environment: Imaginative
Rules to live by in business: Approach challenges as opportunities.
If you could invite one person to dinner (living or dead) who would it be and where would you go? I would travel back in time with Lee Bontecou to her 1960s studio.
What is your dream job? Metalworking