Professional Profile: Gabby Cali 2022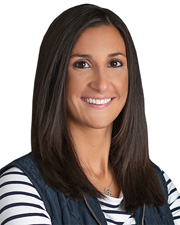 Gabby Cali
Name: Gabby Cali
Title: Managing Director
Company: Progress Capital
Location: Tinton Falls, NJ and New York, NY
Birthplace: Belleville, NJ
Education: Virginia Tech
First job: Brooklyn Bagel
First job in real estate or allied field: Financial services intern
What do you do now and what are you planning for the future? I'm currently a commercial mortgage broker and plan to continue growing in my role, building more relationships and helping as many clients arrange financing for their commercial real estate investments as I can!
How do you unwind from a busy day? Doing yoga or cooking dinner with a glass of wine.
Favorite book or author: "The Alchemist"
Favorite movie: "Wolf of Wall Street"
Favorite streaming series: "Succession"
One word to describe your work environment: Dynamic
Rules to live by in business: Give before you take. Set your mind on adding value, not extracting value. The rest will follow if you work hard and uphold the best of intentions for the client.
If you could invite one person to dinner (living or dead, but not related to you) who would it be and where would you go? Elon Musk, In & Out Burger
What is your DREAM job? (something other than your current job) My dream is to own, operate and develop my own real estate portfolio.