Professional Profile: Eric Epstein 2020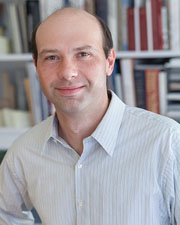 Eric Epstein
Name: Eric Epstein
Title: Principal
Company: Dattner Engineers
Location: 1385 Broadway, New York
Birthplace: New York, NY
Education: Columbia University, New York Institute of Technology
First job: Paper route.
First job in real estate or allied field: My professor's office during second year of architecture school.
What do you do now and what are you planning for the future?: As a partner at Dattner Architects, I lead the design and management of many of our educational, institutional, and commercial projects. When designing these buildings, we see them as opportunities to bring people together, foster social interaction, and enrich our civic life. Each morning I arrive at the office excited to work alongside our creative and talented architects, to collaborate with our valued clients, and engage local communities.
How do you unwind from a busy day?: Hug my wife, play with my kids, walk the dog.
Favorite book or author: Dostoyevsky, Tocqueville, Bradbury.
Favorite movie: Hmm... Hitchcock, a James Bond flick, or anything by Mel Brooks when I don't feel like thinking.
Last song/album that you purchased/downloaded?: Calexico
Rules to live by in business: 1) Do all you have promised to do. 2) Admit your mistakes, and then fix them. 3) It's a small world – be nice to everyone.
If you could invite one person to dinner (living or dead, but not related to you) who would it be and where would you go?: Benjamin Franklin. I'd do most of the listening.