Professional Profile: Emily Webster 2019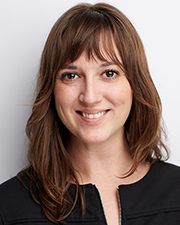 Emily Webster
Name: Emily Webster
Title: Head of Media Architecture
Company: ESI Design
Location: New York, NY
Birthplace: Manitowoc, WI
Education: Graduate Degree from NYU's Interactive Telecommunications Program; Undergraduate Degree in Environmental Design – Architecture from University of Colorado, Boulder.
First job outside of real estate: After I studied architecture, I was a production design assistant for the artist David LaChapelle, but once I finished my graduate degree I moved more into technology as a creative technologist for the light artist Jim Campbell.
First job in real estate or allied field: At my first job out of undergrad, I worked at WET Design, where we were tasked with taking underutilized spaces and creating destinations that would draw a crowd. At ESI Design, we are known for our placemaking capabilities, transforming class A office buildings into experiences that attract new tenants and increase street presence and property value. While these are not directly "real estate" jobs, they are fields that aimed to elevate a space and transform it into an experience.
What do you do now and what are you planning for the future? I am the Head of Media Architecture at ESI Design and am working to help push our work with our real estate clients and the industry at large forward by inspiring people to think of technology as an agile and dynamic architectural material that can transform dull or static spaces into places where people want to spend time.
How do you unwind from a busy day? Reading, cooking, and dreaming about building my dream house!
Favorite book or author: One Hundred Years of Solitude by Gabriel Garcia Marquez
Favorite movie: Not sure that it's my favorite movie, but I find the Fifth Element very entertaining! I love the production design and the Gaultier costumes.
Last song you purchased/downloaded? Fly Away/Walking in the Sunshine by Laid Back
One word to describe your work environment: Laboratory – we're constantly inventing and creating at ESI Design.
Rules to live by in business: Passion will drive you further than any other motivator…
What is your dream job? I try to make my daily work as in line with my artistic process as possible…my dream job would be to do my personal artwork as a fulltime career, working at the massive scale that I get to do on ESI Design projects.