Professional Profile: Elyssa Marcus 2022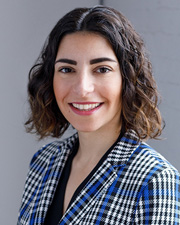 Elyssa Marcus
Name: Elyssa Marcus
Title: Vice President, Asset Management & Development
Company: Jamestown
Location: Delta Sky Club
Birthplace: Manhattan, NY
Education: BBA, Goizueta Business School at Emory University
First job: The Girl Project, which supplied disposable cameras to teenage girls around the country for inclusion in a diverse photobook, 'Please Read (if at all possible).'
First job in real estate or allied field: Summer intern in property mgmt. at Vornado.
What do you do now and what are you planning for the future? Ideation and implementation of Jamestown's $500 million redevelopment of the iconic One Times Sq.—I plan to be involved in development projects as challenging and monumental as this one in the future.
How do you unwind from a busy day? Internet chess on the foreground, Netflix with picture-in-picture, and one hand petting my pup, Woody (short for Woodstock!)
Favorite book: I wouldn't necessarily call it my favorite, but "Ready Player One" has really stuck with me. I both fear and am excited for the digital future that it imaginatively depicts.
Favorite movie: "Forrest Gump." I love how a single individual can be a window into so many pivotal moments in the 20th century.
Favorite streaming series: "Arrested Development." I've watched it a dozen times and still find hilarious "easter eggs" I hadn't picked up on in prior viewings.
One word to describe your work environment: Fast-paced.
Rules to live by in business: Nothing is impossible. And tied to that, the devil is in the details. From my experience, even the things that are often accepted as unachievable can be accomplished with a little (or a lot of) thorough work and research.
If you could invite one person to dinner (living or dead) who would it be? Berenice Abbott, a photographer who illustriously captured the transformation of NYC including the construction of dozens of skyscrapers spurred by the New Deal.
What is your DREAM job (other than the job you currently have)? Soup critic. I am 'so-up'sessed and order soup at every restaurant. If a restaurant can't make good soup, I won't trust the rest of their menu.