Professional Profile: Elie Finegold 2018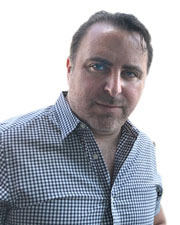 Elie Finegold - 2018
Name: Elie Finegold - 2018
Title: Entrepreneur In Residence
Company: MetaProp
Location: Dallas, TX/New York, NY
Birthplace: Seattle, WA
Education: Harvard, Magna Cum Laude, Special Concentration: Music and Culture
First job: Receptionist at a PR Firm
First job in real estate or allied field: CEO of Cubitz.com / chief innovation officer of Insignia Financial Group
What do you do now and what are you planning for the future? Advising growth companies, raising a real estate fund with a unique tech-informed strategy, and incubating a long-term PropTech business plan.
How do you unwind from a busy day? Play music, mostly guitar
Favorite book or author: "Portrait of the Artist as a Young Dog" by Dylan Thomas
Favorite movie: "Blade Runner"
Last song/album that you purchased/downloaded? Plastic Soul, Mondo Cozmo
One word to describe your work environment: Exhilarating
Rules to live by in business: Do the right thing, the right way, with the right people.
No piece of paper can protect you from a bad person. Put the cookies on a low shelf if you want them to be eaten.
If you could invite one person to dinner (living or dead, but not related to you) who would it be and where would you go? Bob Dylan, outdoor café in Rome
What is your DREAM job? (something other than your current job) A touring musician, but only in a bus