Professional Profile: Edwin Day 2016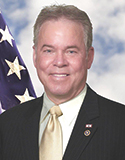 Edwin Day - 2016
Name: Edwin Day - 2016
Title: County Executive
Company: County of Rockland
Location: County of Rockland
Birthplace: Brooklyn, NY
Education: Kingsborough CC / Pace University
What do you do now and what are you planning for the future? As county executive act as the chief budget officer and chief economic development officer for Rockland County. Supervise, direct and control the administration of all departments of the county government and appoint the head of every county department and members of county boards and commissions. In addition, act as the day to day manager of a county government with over 1,700 employees and an approximate three quarter of a billion dollar budget, supervising and directing the internal organization and reorganization of each department or other administrative units.
How do you unwind from a busy day? A brisk walk and an occasional scotch on the rocks!
Favorite author: James Patterson
Favorite movie: "Saving Private Ryan"
One word to describe your work environment: Challenging
Rules to live by in business: Lead by example, praise in public and correct in private and when you say will do something...do it!
If you could invite one person to dinner (living or dead, but not related to you) who would it be and where would you go? Teddy Roosevelt
What is your DREAM job? Golf pro…and given my handicap, it is a dream!