Professional Profile: Drew Ferraro 2019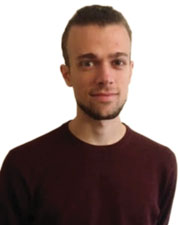 Drew Ferraro
Name: Drew Ferraro
Title: Director of Operations
Company: Yadav Solutions, Inc.
Location: Manhattan & Buffalo, NY
Birthplace: Rochester, NY
Education: Bachelor of Arts in Public Communication - (SUNY) College at Buffalo.
First job: Triple A Roadside Assistance - Renewal Specialist
What do you do now and what are you planning for the future? Currently handle sales, project management, and business development. Establish relationships with new clients as well as primary contractors for our firm to act as a sub on various energy studies and property condition assessments. I also assist with hiring, training staff, prioritizing tasks, financial reports, and business growth. For the future, I'd like to be delegating more tasks and expand our resources to assist with all areas of our business. I'm also working to get PMP certified, and would like to be increasing my focus on sales and project management.
How do you unwind from a busy day? Swimming at the gym. Also have been enjoying online chess.
Favorite movie: "Casino"
Last song/album that you purchased/downloaded? Gang Starr "One of the Best Yet"
One word to describe your work environment: Results-Oriented
Rules to live by in business: Attention to detail
What is your DREAM job? Artist/musician