Professional Profile: Diana Kalvitis-Pannone, 2019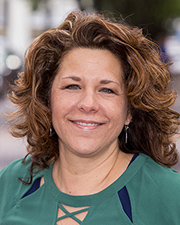 Diana Kalvitis-Pannone
Name: Diana Kalvitis-Pannone
Title: Senior Associate, Interior Design Manager, Certified Interior Designer
Company: SWBR
Location: 387 East Main St., Rochester, NY  
Birthplace: Poughkeepsie, NY
Education: Bachelor of Fine Arts in Interior Design, Syracuse University
First job outside of real estate: John D. Brush & Co., assembly line worker
First job in real estate or allied field: Interior designer at SWBR Architects
What do you do now and what are you planning for the future? Manage the interior design studio at SWBR. Short-term plans are to encourage, inspire and motivate the design staff to reach their professional goals. Continue to coach and mentor staff to always be striving for the next level of professional and creative development. Stay on top of constant changing design trends and always be willing to think outside the box.
How do you unwind from a busy day in real estate? Relax with husband and daughter. Take a drive, eat at a yummy restaurant. Or, prepare a delicious meal while listening to my daughter practice singing and playing the piano.
Favorite book or author: "The Art of Racing in the Rain," by Garth Stein
Favorite movie: "Bohemian Rapsody"
Last song you downloaded? "Fall on Me," Andrea and Matteo Bocelli
One word to describe your work environment: Productive
Rules to live by in business: Honesty will always be the best policy. Never stop learning. Offer value – help others get what they want. Be efficient with your energy. Carefully observe to see what's working and what isn't. Be ready to adapt. Surround yourself with the right people. Remember life is short.
If you could invite one person to dinner (living or dead) who would it be and where would you go? Princess Diana, somewhere on the British Virgin Islands
What is your dream job? Running a private resort, with exquisite guest rooms and spa experience on an exotic, lush island making beautiful cocktails and unforgettable savory bites.