Professional Profile: David Wilkes 2023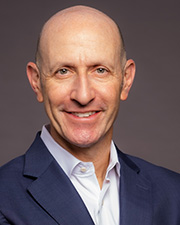 David Wilkes
Name: David Wilkes
Title: Partner
Company: Herman Katz Cangemi Wilkes & Clyne, LLP
Location: New York City
Birthplace: Manhattan
Education: MS, Real Estate Finance (NYU); JD (Law), Boston University; BA, Baruch College (English Literature)
First job: I charged classmates to do their art assignments
First job in real estate or allied field: Commercial real estate litigation attorney
What do you do now and what are you planning for the future? Tax Certiorari attorney and a senior-level partner at Herman Katz. The firm is among the dominant property tax firms in New York State, and I intend to grow our presence in several key New York markets.
How do you unwind from a busy day? Dinner and a movie with Hillary
Favorite book or author: "Death in the Afternoon" (Hemingway, non-fiction); "The Power and the Glory" (Greene, fiction)
Favorite movie: "Mr. Nobody", followed closely by "The Taking of Pelham 1, 2, 3"
Favorite streaming series: "Breaking Bad"
One word to describe your work environment: Dedication.
Rules to live by in business: Don't burn bridges, always play the long game.
If you could invite one person to dinner (living or dead, but not related to you) who would it be and where would you go? Moses. Rothschild TLV Restaurant (Kosher, Upper East Side)
What is your DREAM job? (other than your current job): I didn't know my current job wasn't my dream job! OK, if I have to choose: Yosemite rock climbing guide.