Professional Profile: David May 2022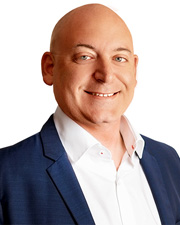 David May
Name: David May
Title: Managing Director
Company: Progress Capital
Location: Tinton Falls, NJ
Birthplace: New Jersey
Education: Bachelor's Degree in Organizational Management & Marketing
First job: Cashier at ShopRite Supermarket
First job in real estate or allied field: Credit analyst with Oritani Bank
What do you do now and what are you planning for the future? I am currently a commercial mortgage broker with Progress Capital. I plan on continuing to grow my client relationships with Progress and hope to create my own real estate portfolio.
How do you unwind from a busy day? Depending on the day, spend time with family and friends, working out or watching TV.
Favorite book or author: Lee Childs - "Reacher" series
Favorite movie: "Step Brothers"
Favorite streaming series: "Cobra Kai" or "Ozark"
One word to describe your work environment: Fun
Rules to live by in business: Get it done!
If you could invite one person to dinner (living or dead, but not related to you) who would it be and where would you go? I would invite Derek Jeter to dinner. In case he's reading this, I would be open to going to whichever is his favorite restaurant in Tampa.
What is your DREAM job? (something other than your current job) My dream job would be team president of the New York Yankees.