Professional Profile: David Lebenstein 2018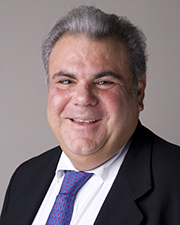 David Lebenstein
Name: David Lebenstein
Title: Executive Managing Director
Company: Cushman & Wakefield
Location: 1290 Avenue of the Americas, New York, NY
Birthplace: Miami Beach, FL 
Education: B.A. Hunter College/J.D. Brooklyn Law School
First job: My first job was a newspaper delivery boy for the New York Post. I was also a soda jerk at a candy store.
First job in real estate or allied field: Director of acquisitions, Times Equities Inc.
What do you do now and what are you planning for the future? I am the co-chair of the Not-for-Profit Advisory Group at Cushman & Wakefield, working with not-for-profits, schools, medical facilities and government on their relocation assignments. I plan to continue this work in the future as well.
How do you unwind from a busy day? I like to watch TV to unwind from a long day.
Favorite book or author: "The Power Broker" by Robert Caro
Favorite movie: "My Cousin Vinny"
Last song/album that you purchased/downloaded? The Greatest Showman
One word to describe your work environment: Eclectic
Rules to live by in business: Tell people the truth, and they will trust you.
If you could invite one person to dinner (living or dead, but not related to you) who would it be and where would you go? I would dine with Alexander Hamilton at Sylvia's.
What is your dream job? To run the Ford Foundation or manage the New York Mets!