Professional Profile: Danielle Oglesby 2019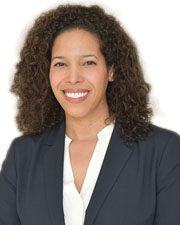 Danielle Oglesby
Name: Danielle Oglesby
Title: Chief Operating Officer
Company: Nassau County Industrial Development Agency
Location: Mineola, NY
Birthplace: Glen Cove, NY
Education: Master of Urban Planning, City of New York-Hunter College and BA in Urban Planning, SUNY Albany
First job: Planning Department intern, city of Glen Cove
First job in real estate or allied field: Brownfields program manager, Glen Cove Community Development Agency
What do you do now and what are you planning for the future? Oversee the day-to-day operations of the IDA and ensure the IDA team is promoting and approving projects that generate construction, add jobs, fuel economic development and grow the tax base. Our team meets with potential new projects and explains any financial benefits the business may be entitled to such as a structure property tax payment schedule, savings on mortgage recording taxes, and sales and use tax exemptions. We pride ourselves on working closely with our clients to ensure they are receiving the most beneficial incentives for their projects. We encourage mixed-use projects, especially those that increase affordable housing in Nassau County.
How do you unwind from a busy day? Hiking
Favorite book or author: "The Day the World Came to Town" by Jim Defede
Favorite movie: Everything from the 80s
Last song/album that you purchased/downloaded? "Buddy Holly"
One word to describe your work environment: Collaboration
Rules to live by in business: Be proud of the work you do and acknowledge all the people who have helped you along the way.
What is your DREAM job? (something other than your current job) I would write about my experiences with different cultures from places around the world.