Professional Profile: Daniel Piselli 2018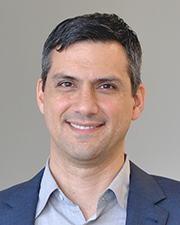 Daniel Piselli
Name: Daniel Piselli
Title: Director of Sustainability, Senior Associate
Company: FXCollaborative
Location: New York, NY
Birthplace: Milford, CT
Education: University of Kentucky, BARCH
First job outside of real estate: Change Attendant at an Arcade
First job in real estate or allied field: Internship at Frank Lloyd Wright's Fallingwater to do measured drawings.
What do you do now and what are you planning for the future? I was recently promoted to director of sustainability, and am very excited to push the firm's work and the building industry to a more energy efficient, ecologically aware, and humane future.
How do you unwind from a busy day? A few volos on the bocce court.
Favorite book or author: Michael Sorkin
Favorite movie: "Ferris Bueller's Day Off"
Last song you purchased/downloaded? Phillip Glass, "Wichita Vortex Sutra"
One word to describe your work environment: Organized chaotic vitality.
Rules to live by in business: Avoid uninformed assumptions, that's when mistakes happen.
What is your dream job? Leader of a global nonprofit foundation that supports environmentally and socially responsible research and development.