Professional Profile: Daniel Gershburg 2018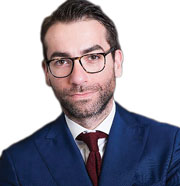 Daniel Gershburg - 2018
Name: Daniel Gershburg - 2018
Title: Partner
Company: Romer Debbas, LLP
Location: Brooklyn, NY
Birthplace: New Jersey
Education: Rutgers (B.A. Political Science, Philosophy); New York Law School (J.D., Law Review)
First job: Newspaper advertising sales, The Daily Targumen
First job in real estate or allied field: Owner, Gershburg Law, P.C.
What do you do now and what are you planning for the future? I'm a partner at Romer Debbas, LLP, representing clients in the purchase and sale of residential and commercial properties. I just merged a few weeks ago, so this is what I'm planning for the future as well.
How do you unwind from a busy day? I binge watch documentaries on Netflix. Also I read as much as I can.
Favorite book or author: "Letters from a Self Made Merchant to his Son" by George Horace Lorimer
Favorite movie: "Saving Private Ryan," though I think "Miami Vice" was severely underrated
Last song/album that you purchased/downloaded? Spotify. 2000's Hip Hop channel
One word to describe your work environment: Quiet
Rules to live by in business: Stay humble. Know that there is more to learn. Put people together. Never over-promise.
If you could invite one person to dinner (living or dead, but not related to you) who would it be and where would you go? One of the Wright brothers and I would eat at an airport.
What is your DREAM job? (something other than your current job): I would love to be a history professor or a financial advisor. I would also love to be paid to read.