Professional Profile: Dan Glading 2017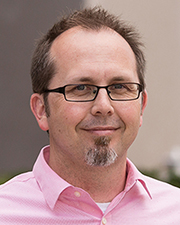 Dan Glading
Name: Dan Glading
Title: Associate/Project Architect
Company: SWBR
Location: Rochester, NY
Birthplace: Denver, CO
Education: Bachelor of Architecture, University of Washington 1997. Master of Architecture, The NewSchool of Architecture and Design, 2007.
First job outside of real estate architecture: Newspaper delivery, followed by the local pizza joint.
First job in real estate or allied field architecture: HKW Associates in Birmingham, AL
What do you do now and what are you planning for the future? I am the lead design coordinator for all of the DePaul Properties affordable and supportive housing projects. I plan to continue to offer my design expertise to the creation of quality housing for struggling and marginalized people in our society.
How do you unwind from a busy day in real estate architecture? A good book, or a good board game with friends.
Favorite book or author: There are too many to pick just one. A good place to start would be "The Name of the Wind," by Patrick Rothfuss.
Favorite movie: The new Star Wars movies are pretty great.
Last song you downloaded? I'm listening to the album Tales from the Gip, by Rochester local blues rock band Violet Mary.
One word to describe your work environment: Energized
Rules to live by in business: In terms of profit, settle for enough; in terms of service to others, never settle.
If you could invite one person to dinner (living or dead) who would it be and where would you go? I would take my wife to Good Luck and share their hamburger. The light in her eyes when she laughs never fails to make me smile, and that is a TASTY burger!
What is your dream job? I get to design places to live for people who are pushed to the sidelines by our current economic system. That's kind of a dream job right there. In an alternate universe, I would be designing and developing my own single-family and small multi-family projects.