Professional Profile: Craig Waggner 2017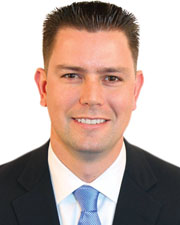 Craig Waggner - 2017
Name: Craig Waggner - 2017
Title: Treasurer, Young Men's/Women's Real Estate Association
Company: Director, Investment Sales, Cushman & Wakefield
Location: Manhattan, NY
Birthplace: Secaucus, NJ
Education: BS, Finance, Rowan University
First job: Auditor with RGIS
First job in real estate or allied field: Investment sales at Massey Knakal Realty Services
What do you do now and what are you planning for the future? I'm a commercial real estate investment sales broker. I represent sellers in the disposition of their properties. I plan to get more listings and sell more properties.
How do you unwind from a busy day? Exercise, spend time outdoors, play with my 18-month old daughter, have an ice cold beer or glass of wine with my wife and habitually write my "to do" list for the next day which helps me feel productive and unwound before bed.
Favorite book or author: Dan Brown
Favorite movie: "My Cousin Vinny"
Last song/album that you purchased/downloaded? "My House"by Flo Rida
One word to describe your work environment: Collaborative
Rules to live by in business: Work hard, have a plan, prioritize, don't make excuses, and surround yourself with the right like-minded individuals that will help you succeed.
If you could invite one person to dinner (living or dead, but not related to you) who would it be and where would you go? Vince Lombardi, Angelo's on Mulberry St.
What is your DREAM job? (something other than your current job) Professional athlete. Golfer, NFL quarterback or shortstop for the Yankees.