Professional Profile: Corina Folts 2020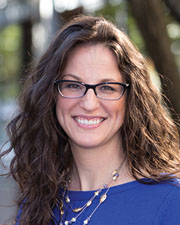 Corina Folts
Name: Corina Folts
Title: Associate | Certified Interior Designer
Company: SWBR
Location: Rochester, NY
Birthplace: Corpus Christi, TX
Education: Bachelor of Science, Interior Design
First job: Camp Counselor
First job in real estate or allied field: Design and administrative assistant at Ohlson Lavoie Collaborative in Orlando, FL
What do you do now and what are you planning for the future? Interior design and project management at SWBR. Responsible for finish and furniture material selections, involved in each phase of design, conducting product research, creating estimates, and presenting recommendations for the interior design.
How do you unwind from a busy day? Spending time with my husband and six-year-old daughter, garden, and sometimes when I have time alone I'll watch a mindless action movie.
One word to describe your work environment: Inspirational
Rules to live by in business: Communication is key, and It's all in the details.
If you could invite one person to dinner (living or dead) who would it be and where would you go? My grandfather was an architect, I would love to discuss business plans, operations, and design over a cup of tea at "the old river house."
What is your DREAM job? (something other than your current job) In a different life I would have loved to be a choreographer for large dance productions.