Professional Profile: Corey Gluckstal 2018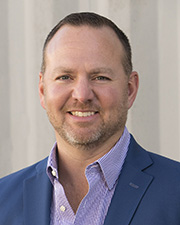 Corey Gluckstal
Name: Corey Gluckstal
Title: Managing Partner
Company: Five Point Real Estate
Location: 35 Pinelawn Rd., Suite 214E, Melville, NY 11747
Birthplace: Nassau County
Education: BA in American History from Hobart College, MBA in Finance and Capital Markets from Frank G. Zarb School of Business at Hofstra University.
First job: Supply Chain Manager for Airline Parts Distribution business
First job in real estate or allied field: Son of a general contractor – demolitian at the age of 18 in NYC job sites! Started commercial brokerage with my partner Guy Canzoneri in 2011. He took me under his wing and helped me transition from corporate salary career to 100% commission.
What do you do now and what are you planning for the future? Currently managing partner and founder of Five Point Real Estate. Our focus is building Long Island's best commercial brokerage for the next generation of investment sales brokers. Our commitment to technology and process we feel will set the standard for the investment sales market for Nassau and Suffolk going forward. We are also building our property management team with two buildings already under management.
How do you unwind from a busy day? Working out, Soul Cycle and a nice cocktail!
Favorite book or author: Big fan of Clive Cussler's novels with Dirk Pitt.
Favorite movie: Where the Buffalo Roam with Bill Murray
Last song/album that you purchased/downloaded? "Lets Play Two" by Pearl Jam
One word to describe your work environment: Work-Hard-Play-Hard
Rules to live by in business: Don't be afraid to ask, learn to say no, and always assume your client is smarter than you!
If you could invite one person to dinner (living or dead, but not related to you) who would it be and where would you go? Eddie Vedder – an ocean-side bar serving fish tacos and cold beer.
What is your dream job? Coaching basketball somewhere (assuming of course my NBA prospects have been reduced…)