Professional Profile: Christopher Warren 2017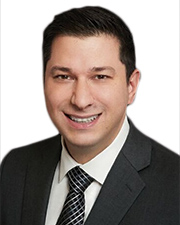 Christopher Warren - 2017
Name: Christopher Warren - 2017
Title: Associate
Company: Borah, Goldstein, Altschuler, Nahins & Goidel, P.C.
Location: New York, NY
Birthplace: Queens, NY
Education: New York Law School, J.D. – 2012; University of Phoenix, B.S. – 2009
First job: Selling Christmas trees on Grand Ave.
First job in real estate or allied field: As a mortgage banker assisting small business owners in restructuring their real estate holdings. That background has given insight into my clients' businesses as a real estate attorney.
What do you do now and what are you planning for the future?:I'm a commercial litigator in the Supreme Court division of Borah Goldstein and am expanding into construction litigation.
How do you unwind from a busy day?:Swing dancing and martial arts, but not at the same time! On weekends, a hike outside the city is the perfect way to recharge.
Favorite movie: "Kung Fu Panda"
One word to describe your work environment: Busy!
If you could invite one person to dinner (living or dead, but not related to you) who would it be and where would you go?:Buddha
What is your DREAM job? (something other than your current job):That would be a job where I can develop my business, solve real-world problems, and be a part of an amazing team. As it turns out, I get to do that now.