Professional Profile: Christopher Rogers 2020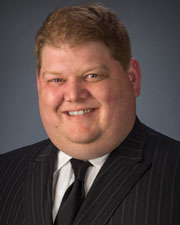 Christopher Rogers
Name: Christopher Rogers
Title: Senior Tax Partner
Company: Capital Fund Law Group, LLP
Location: Memphis, Tennessee
Birthplace: Santa Ana, California
Education: B.S. Accounting & Criminal Justice, MPAcc and MBA; Weber State University; J.D. Roger Williams University, LL.M Tax, Boston University
First job: Games, California's Great America
First job in real estate or allied field: Sales & Use Tax Auditor, Utah State Tax Commission
What do you do now and what are you planning for the future? Counsel clients in formation of various types of domestic and offshore investment funds (real estate, hedge, private equity, cryptocurrency); counsel on tax issues related to domestic and offshore investment funds; counsel on investment advisor rules regarding the managing of investment funds.
How do you unwind from a busy day? I am avid softball player, so commonly play; I regularly coach kids sports, primarily baseball; I participate in fantasy sports, specifically baseball and football; bike rides and sports with the kids.
Favorite book or author: "Getting Things Done" by David Allen
Favorite movie: "The Rock"
Last song/album that you purchased/downloaded? "Cheap Seats" by Alabama
One word to describe your work environment: Satisfying
Rules to live by in business: Be courteous and respectful, Never stop learning, Build up people around you to succeed, Never be afraid to ask for help.
If you could invite one person to dinner (living or dead, but not related to you) who would it be and where would you go?:I think it would be great to have dinner with Walt Disney. We would have dinner at his studio on Main St. in Disneyland.
What is your DREAM job? (something other than your current job):NFL Franchise Owner.