Professional Profile: Christopher Luggiero 2020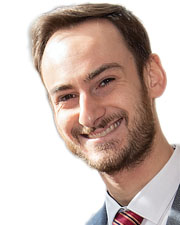 Christopher Luggiero
Name: Christopher Luggiero
Title: Associate Director of Communications
Company: The Doe Fund
Location: New York, NY
Birthplace: Washington, DC
Education: BFA in Drama, New York University
First job: A Red Roof Inn commercial in the late 90s; I'm a recovered child actor.
First job in real estate or allied field: The Doe Fund, a human services nonprofit that develops affordable, supportive, and transitional housing as part of its continuum of care for New Yorkers in need.
What do you do now and what are you planning for the future? I manage the digital marketing and day-to-day operations of The Doe Fund's communications department. We're excited to showcase how our programs are leading change at our virtual gala, Tomorrow Works, on Oct. 22! Learn more at doe.org/gala2020/ I hope to continue—in some small way—to make the world a more equitable place by advancing social, racial, and economic justice as a career.
How do you unwind from a busy day? These days, binge-watching shows I've already seen. It feels like every week of 2020 has brought a new crisis that upends the world, so it's nice to return to something comfortable and familiar.
Favorite book or author: Toss-up between Asterios Polyp and The Amazing Adventures of Kavalier & Clay
Favorite movie: "There Will Be Blood"
Last song/album that you purchased/downloaded? Lately I've been streaming a lot of "lofi hip hop radio - beats to relax/study to"
One word to describe your work environment: Inspiring
Rules to live by in business: Believe in the work you do.
If you could invite one person to dinner (living or dead, but not related to you) who would it be and where would you go? Jack Kirby, to one of the legendary NYC pizza places on my bucket list like Juliana's or L&B Spumoni Gardens.
What is your DREAM job? (something other than your current job):Starchitect