Professional Profile: Christopher Goldan 2019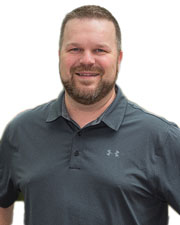 Christopher Goldan
Name: Christopher Goldan
Title: Communications Manager
Company: SWBR
Location: Rochester, NY
Birthplace: Rochester, NY
Education: Art Institute of Pittsburgh, associates in Specialized Technology, 1995
First job outside of real estate: Ernst & Young LLP, Cleveland, OH
First job in real estate or allied field: LDR International, Columbia, MD
What do you do now and what are you planning for the future? I'm a creative manager and lead the firm's graphic design practice group. I look forward to my creativity contributing to the ongoing growth of the firm.
How do you unwind from a busy day in real estate? I coach my son's bantam hockey team
Favorite book or author: karlssonwilker inc.'s "tellmewhy: The First 24 Months of a New York Design Company"
Favorite movie: "White Men Can't Jump"
Last song you downloaded? "Girlfriend" by Matthew Sweet
One word to describe your work environment: Functional
Rules to live by in business: It's not what you know, but who you know, and who they know.
If you could invite one person to dinner (living or dead) who would it be and where would you go? Milton Glaser, Di Fara Pizza in Brooklyn, NY
What is your dream job? To pilot a space shuttle mission