Professional Profile: Christine Workman, 2019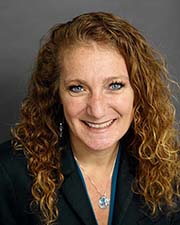 Christine Workman
Name: Christine Workman
Title: Elevator/Escalator Consultant & Business Development Manager
Company: Vertical Systems Analysis, Inc.
Location: New York (Headquarters), Philadelphia, Chicago, Miami
Birthplace: Teaneck, NJ
Education: BS Environmental Planning & Design, Rutgers University, MBA Project Management, Capella University
First job: K. Hovnanian Homes, Red Bank, NJ – worked my way up from construction superintendent to the director of training & development for the NE region.
First job in real estate or allied field: Construction superintendent at K. Hovnanian Homes in Red Bank, NJ
What do you do now and what are you planning for the future? Currently, I handle several major accounts for VSA as well as our marketing and business development in both Manhattan and Philadelphia. I do safety training (OSHA 10 & OSHA 30) for field inspectors and field consultants and customized safety training for several of our clients such as escalator safety. VSA is branching out into several new markets which I am working closely with the owner on. It's exciting to find additional business services that we can offer to our existing clients and reaching out to new clients.
How do you unwind from a busy day? Kickboxing and Aerial Fitness (think Cirque de Soleil.)
Favorite book or author: "The Man who was Magic" by Paul Gallico, because everyone should believe in magic.
Favorite movie: "Breakfast at Tiffany's"
Last song/album that you purchased/downloaded? Jimmy Buffet – Boats, Beaches, Bars & Ballads
One word to describe your work environment: Dynamic
Rules to live by in business: Don't take things personally
If you could invite one person to dinner (living or dead, but not related to you) who would it be and where would you go? Donald Trump – Rock Center Café, they have the best people watching inside & outside every season.
What is your dream job? I love sharing information with people and doing corporate training. Plus I love the beach. Living on a Caribbean Island doing corporate training (customer service, corporate policy/procedures) for a hotel or restaurant chain, waking up to the sound of the ocean. This would combine two of my passions in life.