Professional Profile: Chris Tillet 2001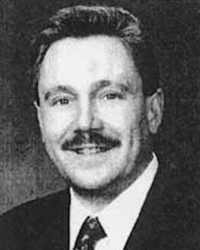 Chris Tillet - 2001
Name: Chris Tillet - 2001
Title: Partner
Company: Bruckner, Tillet, Rossi & LeGrett
Location: Pittsford, NY
Birthplace: Cincinnati, Ohio, 1961
Family:
Married to Becky
College:
Adirondack Community College
First job outside of real estate:
Medical records clerk
First job in real estate or allied field:
Appraiser trainee
What do you do now and what are you planning for the future:
Appraise commercial property across Upstate New York. Republican candidate for city council for city of Rochester
Hobbies:
Restoring old cars, hunting, home improvement. But I consider my greatest achievement unicycling from Rochester to California.
Favorite book:
"Eisenhower I" By Stephen Ambrose
Favorite movie:
"Back to the Future"
Person you most emulate (outside of family):
Ted Nugent
Key to success:
Supportive wife
If you were forced to choose another vocation what would it be?
Carpenter