Professional Profile: Charles Joyce, 2019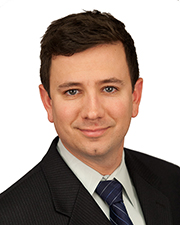 Charles Joyce
Name: Charles Joyce
Title: Director of Fire & Life Safety
Company: AKF Group
Location: New York, NY
Birthplace: Rockville Centre, NY
Education: BS, Fire Protection Engineering – University of Maryland
First job: Lifeguard at a summer camp for special needs children and adults.
First job in real estate or allied field: Entry-level consultant for an engineering company in NYC.
What do you do now and what are you planning for the future? I currently run a team of fire protection engineers who support projects in NYC and other geographic areas where AKF is working. In the future, my plan is to grow our team and explore new geographic markets.
How do you unwind from a busy day? I "unwind" outside of work by volunteering with the Oceanside Fire Department. It can lead to a very hectic schedule at times, but I find it incredibly rewarding to participate.
Favorite book or author: Michael Lewis
Favorite movie: "The Godfather"
Last song/album that you purchased/downloaded? Willie Nelson
One word to describe your work environment: Collaborative
Rules to live by in business: Don't be afraid to admit to a mistake. The sooner you can recognize the mistake, acknowledge the mistake, and begin to correct the situation, the better.
If you could invite one person to dinner (living or dead, but not related to you) who would it be and where would you go? President Theodore Roosevelt. We would go to one of the classic NYC restaurants that has been open since he lived in New York 100+ years ago.
What is your dream job? My other dream job is to own a farm and grow either vegetables or wine grapes for my own vineyard.