Professional Profile: Carly Ferris 2018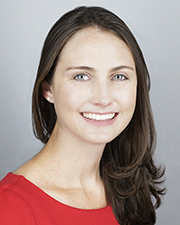 Carly Ferris
Name: Carly Ferris
Title: Regional Director
Company: Capstan Tax Strategies
Location: Greenwich, CT (Capstan is headquartered in Jenkintown, PA)
Birthplace: Concord, MA
Education: BA Villanova University, MBA Boston College
First job outside of real estate: Public Relations
First job in real estate or allied field: My current job
What do you do now and what are you planning for the future? I am expanding Capstan's brand to NY, CT, and NJ. We already work with a number of clients in this area, but this is where we see the most opportunity for growth. In the future I plan to have the northeast business exceed our current sales in terms of revenue and cost segregation studies completed.
How do you unwind from a busy day? Enjoy dinner and a glass of wine with my family or head to my favorite workout class.
Favorite book or author: Michael Lewis
Last song you purchased/downloaded? Anything country
One word to describe your work environment: Passionate
Rules to live by in business: Listen to your clients and value the relationship with them. And always be honest.
What is your dream job? One where I am working with smart and dedicated people. I would love for it to include travel and in some way is helping others in real estate– in essence, what I'm doing now.