Professional Profile: Carlos Zuleta 2018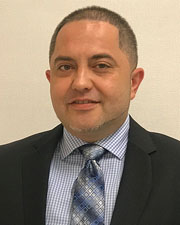 Carlos Zuleta - 2018
Name: Carlos Zuleta - 2018
Title: Investment Sales Associate
Company: Highcap Group
Location: 425 5th Avenue, New York, NY 10016
Birthplace: Colombia
Education: B.A. in Business Management, Interboro Institute
First job: Deliver boy at a neighborhood pizzeria in Bensonhurst when I was 13 years old.
First job in real estate or allied field: Alta NYC Real Estate in 2008.
What do you do now and what are you planning for the future? I work for Highcap Group investment sales. I plan to make a name for myself as one of the top producing agents.
How do you unwind from a busy day? Go for a long bike ride, then come home and enjoy a good movie.
Favorite book or author: "Think And Grow Rich" by Napoleon Hill
Favorite movie: "The Wolf Of Wall Street"
One word to describe your work environment: Productive
Rules to live by in business: Always be transparent, honest, and don't waste time.
If you could invite one person to dinner (living or dead, but not related to you) who would it be and where would you go? Warren Buffet. We would go to a Mark Murphy Restaurant
What is your DREAM job? (something other than your current job) Professional Hockey Player for the NY Rangers.